Spend Your Rainy Season With Hertz Car Rental Earn 3X FlyerBonus points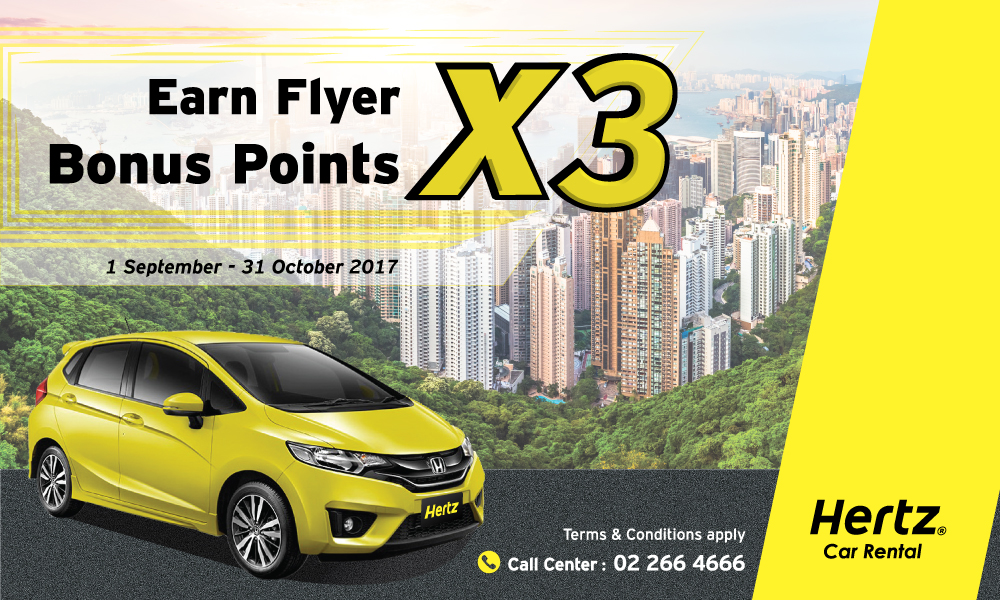 Spend Your Rainy Season With Hertz Car Rental Earn 3X FlyerBonus points.
Earn TRIPLE FlyerBonus points when renting a car up to 2 days at Hertz(Thailand)(Maximum for 14 consecutive days)
Receive 15 FlyerBonus points (Regularly 5 points) on offer for rental 2 days per booking
Receive 30 FlyerBonus points (Regularly 10 points) on offer for rental 3-14 days per booking

Prmotion period: 1 September 2017 - 31 October 2017

Booking Channel
Tel : +66 2 266 4666
Email : reserve@hertzthailand.com

Terms and Conditions :
Available for all Thailand locations. Always inform FlyerBonus Membership number before renting ONLY to get FlyerBonus point
Vehicle(s): All car types in standard fleets
Rates included VAT 7%, unlimited kilometer and SCDW ( No Deductible) , a non-waiverable excess of THB 0 will apply for all car groups in the event of damage to the vehicle
Rate excludes: Refueling service charge, optional excess reduction and other optional miscellaneous charges
Receive TRIPLE FlyerBonus points for rentals of minimum 2 days per booking and not over 14 rental days.
Offer cannot be used in conjunction with any other offer, coupon or promotion including local branch specials.
FlyerBonus points on offer will be credited to members' accounts within 15 working days after starting intention to collect FlyerBonus points.
Resevation, please call 02 266 4666 (call only)
Subject to the terms and conditions of Hertz Car Rental (Thailand) Agreement at the time of rental.