Fun time..Fun Fair at FlyerBonus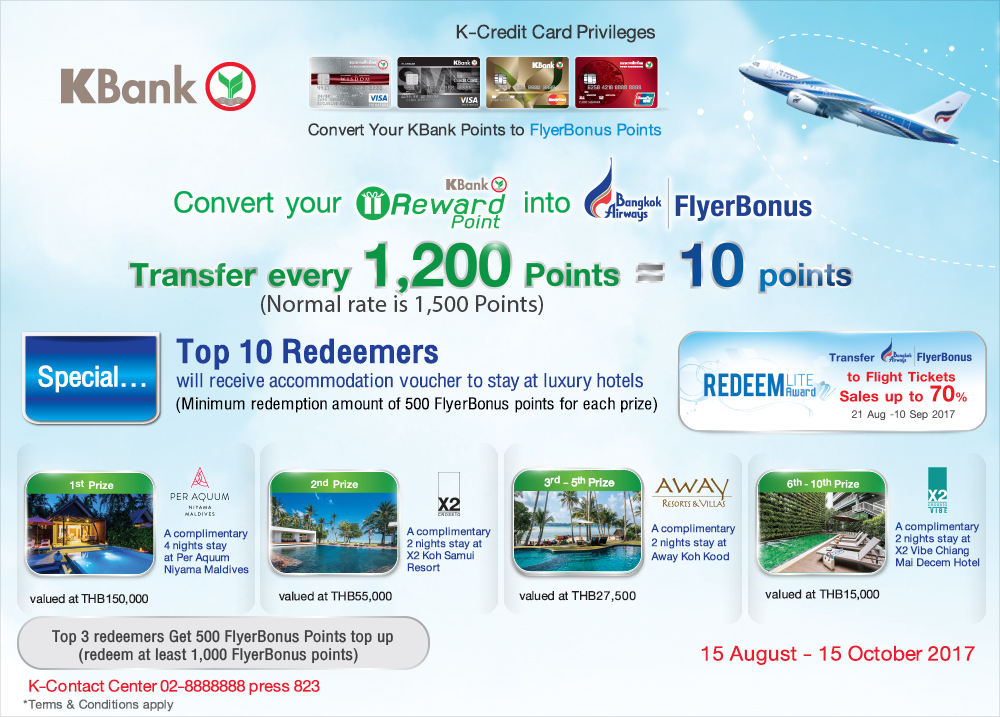 ​
1. Transfer every
1,200 KBank Reward Points
=
10 FlyerBonus points
(Normal rate is 1,500 KBank Reward Points)
2.
Top 10 redeemers
(redeem at least 500 FlyerBonus points)
1st Prize: A complimentary 4 nights stay at Per Aquum Niyama Maldives values 150,000 Baht
2st Prize: A complimentary 2 nights stay at X2 Koh Samui Resort values 55,000 Baht
3rd-5th Prize: A complimentary 2 nights stay at Away Koh Kood values 27,500 Baht
6th-10th Prize: A complimentary 2 nights stay at X2 Vibe Chiang Mai Decem Hotel values 15,000 Baht
Promotion Period
: 15 August 2017 -15 October 2017
Redemption Channel
: K-Contact Center Tel. 66 (0) 2-888-8888 press 823
Terms and Conditions
Eligible cardholders must transfer their FlyerBonus points between 15 August – 15 October 2017
A minimum of 500 FlyerBonus points transfer is required for each Top 10 Redeemer Hotel prize and minimum of 1,000 FlyerBonus points transfer is required for each Top 3 Redeemer 500 FlyerBonus Points
It takes around 3-7 business days to redeem FlyerBonus points. Cardholders who wish to further redeem the FlyerBonus awards are therefore advised to transfer redeem the points in advance.
The FlyerBonus points can be redeemed for award tickets at www.bangkokair.com/flyerbonus. Award ticket redemption is subject to FlyerBonus Terms & Conditions.
The winners' list will be announced via www.askkbank.com/kbankcard within 30 November 2017. The hotel vouchers will be delivered to the winners by registered mail.
FlyerBonus points will be transferred to the top3 redeemers' account within 60 days after campaign ended.
Redeemable points must be recorded in the Bank's system and reported on the cardholder's credit card statement. Only cardholders holding valid credit cards on the date of point redemption and complying with terms of payment agreed upon with the Bank are eligible for this program
KBank Reward Points converted to FlyerBonus points cannot be reversed under any circumstances
Titanium credit card and Corporate cards including KBank Everyday Card, Fleet Card, Happy Online Credit Card and the ThaiBev Credit Card are not eligible for the KBank Reward Point programme.
The Bank reserves the right to change any conditions and benefits without prior notice. In case of any dispute, the Bank's decision will be regarded as final.
Terms and conditions for the conversion of KBank Reward Points are subject to the Bank's criteria. For more information, please visit www.askkbank.com/kbankcard or call the K-Contact Center on 0 2888 8888 press 823.