Receive up to 500 points!* with Bangkok Bank Credit Cards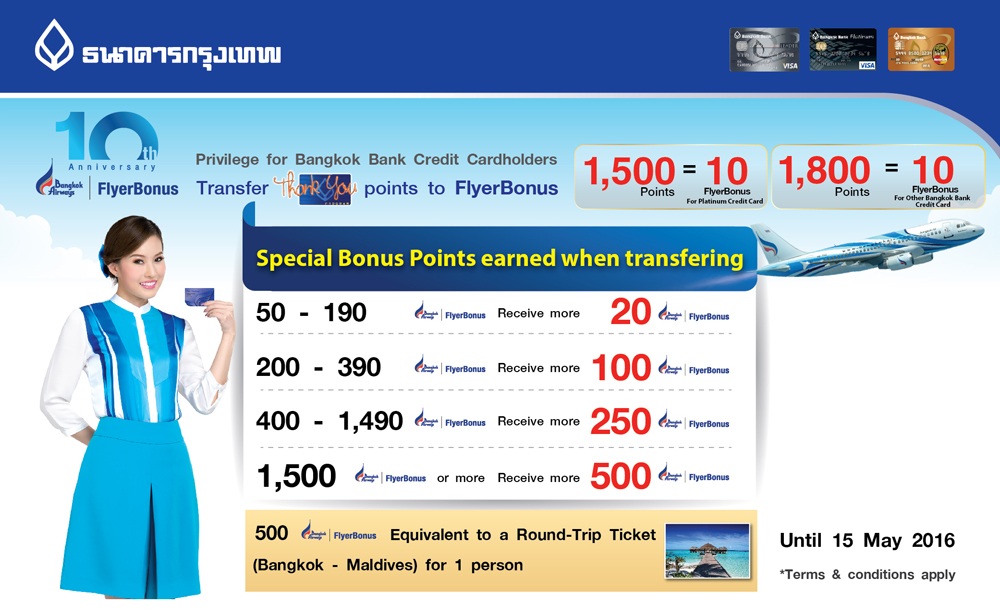 Bangkok Bank Credit Card Holders can now transfer Thank You Rewards points to FlyerBonus points with a special offer
Every 1,500 Thank You Rewards points for Platinum credit card can be converted into 10 FlyerBonus points
Every 1,800 Thank You Rewards points for other Bangkok Bank Credit Card can be converted into 10 FlyerBonus points


Special Bonus Points earned when transferring…
50 - 190 FlyerBonus points receive 20 FlyerBonus points
200 - 390 FlyerBonus points receive 100 FlyerBonus points
400 - 1,490 FlyerBonus points receive 250 FlyerBonus points
1,500 FlyerBonus points or more receive 500 FlyerBonus points (equivalent to a round – trip ticket between Bangkok and Maldives)

Promotion period: 15 March - 15 May 2016

Terms & Conditions
A minimum of 1,500 points for Bangkok Bank Platinum credit card points are required for each redemption.
A minimum of 1,800 points for others Bangkok Bank Credit card points are required for each redemption.
To receive this offer, accumulated points will be calculated between 15 March and 15 May 2016.
Credit card holders who transfer FlyerBonus Points from 50 to 1,500 points or more, will be eligible to receive the Special Bonus Points according to the Tiers. (Limit 1 card holder per 1 Tier)
Credit card holders who transfer Thank You Rewards points to 1,500 FlyerBonus points or above, will earn the 500 FlyerBonus points (equivalent to a round – trip ticket between Bangkok and Maldives) from Bangkok Airways
Once the Thank You Rewards points have been exchanged for FlyerBonus points, the converted points cannot be exchanged back to Thank You Rewards points.
The bank will not be responsible for any points that have already been transferred to FlyerBonus points nor any action of Bangkok Airways.
It takes around 10 business days to redeem FlyerBonus points. Card holders who wish to redeem the points are therefore advised to redeem the points in advance.
The FlyerBonus points can redeemed for award tickets at www.bangkokair.com/flyerbonus.
Only Bangkok Bank's primary credit cards are eligible for this campaign and the card holders must have a normal credit card status and comply with all the bank's credit card conditions.
Titanium, Corporate, Purchasing cards, Air Asia Credit card and other Bangkok Bank credit cards that do not have reward points are not included in the offer.
Award ticket redemption is subject to FlyerBonus Terms & Conditions.
To check your Thank You Rewards points, call 0-2638-4000 press 1 5 2 2.
Cancellation on airline award redemptions and points re-depositing are not allowed.
The bank and the airline reserve the right to change the campaign details without prior notice.
The bank's decision is final.